Micathermic heaters, or mica panel heaters, are a type of space heater that uses the mineral mica for better efficiency. Mica heaters heat up a room faster and more evenly compared to other types of heaters. If you're looking for the best micathermic heater, you're in the right place.
Our Top Micathermic Heaters
Our Best Overall Micathermic Heater
1. DeLonghi HMP1500
De'Longhi HMP1500 Mica Thermic Panel Heater
The Delonghi HMP1500 is one of the best micathermic heaters in the market. It is lightweight, has a great design, and can also be wall mounted. It is also efficient in heating and keeps a room cozy during colder seasons.
We earn a commission if you make a purchase, at no additional cost to you.
The Delonghi HMP1500 is one of the best micathermic heaters out there. The heaters are both a floor unit as well as on the wall. Once you mount it on the wall, it will provide you with the warmth you require throughout the entire winter. This feature means that the heater can be installed in your house as a permanent fixture, which prevents it from tipping over.
The HMP1500 has a thermostat but only has two settings, high and low. Moreover, the model also has an automatic tip-over shutoff, which means that it shuts down if it falls over, which helps prevent serious problems that could arise from the heater functioning while lying down.
Overall, if you're looking for a micathermic heater that combines many of the best qualities of an amic athermic heater, this is it. Its heating is more even, highly portable, noiseless, and should last long. We're very pleased with this micathermic heater and recommend it if it suits your needs.
Budget-Friendly Option
2. TURBO Arcade HR1500
TURBRO Arcade HR1500
If you're looking for a cheaper micathermic heater, the HR1500 is a good option. It is an excellent heater that heats up faster to warm up a room almost immediately. Overall, we would not hesitate to recommend this to heat a home.
We earn a commission if you make a purchase, at no additional cost to you.
With the Turbo Arcade HR1500, you no longer have to wait a few minutes for your room to warm. Once you switch on the appliance, you feel the warmth immediately. The heater also produces heat through infrared rays, which means the heat spreads throughout the room without having to worry about noise being produced by a fan. Furthermore, no oxygen is consumed, and air moisture remains the same.
While most heaters produce heat using only one outlet, the HR1500 delivers heat by producing heat Omni direct. Most of the heat comes out through the top of the heater, and the sides also release some heat. Therefore, you do not need to adjust the angle of the appliance for everyone to feel warm. The HR1500 also has an adjustable thermostat and a power selector from between 1000 and 1500W. After you have set the temperature you want, the heater automatically turns off and on depending on how much the temperature rises or falls.
The Turbo Arcade HR1500 is a cheaper alternative that works perfectly. It is lightweight, but unlike the Delonghi, it needs more space because it cannot be mounted. However, it is efficient, warms up almost immediately, and operates quietly.
Another Good Alternative
3. Bionaire Silent Console Heater
Bionaire Silent Micathermic Console Heater
The Bionaire is well-built with a nice design that is easy to move around. It also produces heat efficiently and has different thermostat settings for the best customization. It's also easier to use with an intuitive button. Overall, it is a durable and efficient mica heater.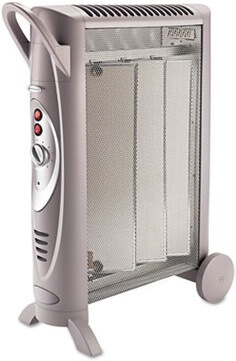 We earn a commission if you make a purchase, at no additional cost to you.
The Bionaire silent micathermic heater is another good heater you can check out. It has multiple features that contribute to its portability characteristics, including a lightweight design, a carrying handle, and wheels. The Bionaire also has a thermostat with multiple settings.
The Bionaire's performance is excellent as it easily produces efficient heat for a mid-sized room. Furthermore, the heat it produces is ideally regulated and thus makes it easy for you to sleep all night without being highly uncomfortable because of too much heat. The controls are easy to use, with visible buttons even at night. The Bionaire is durable and safe, as the cover does not overheat.
The Bionaire is a great option that works efficiently as a micathermic heater. It has a lightweight design that is easy to move around with ease. It is also efficient in heating a room with ease.
Micathermic Heater Buying Guide
What is a Micathermic Heater?
Before we look at the list of the best products to buy, we need to understand the real meaning of a micathermic heater. A micathermic heater provides warmth the same as other heaters. However, the process by which it produces the heat is entirely different. A typical heater uses radiant or convection heat to warm up your room, while a micathermic heater uses a different principle whereby mica technology produces the heat.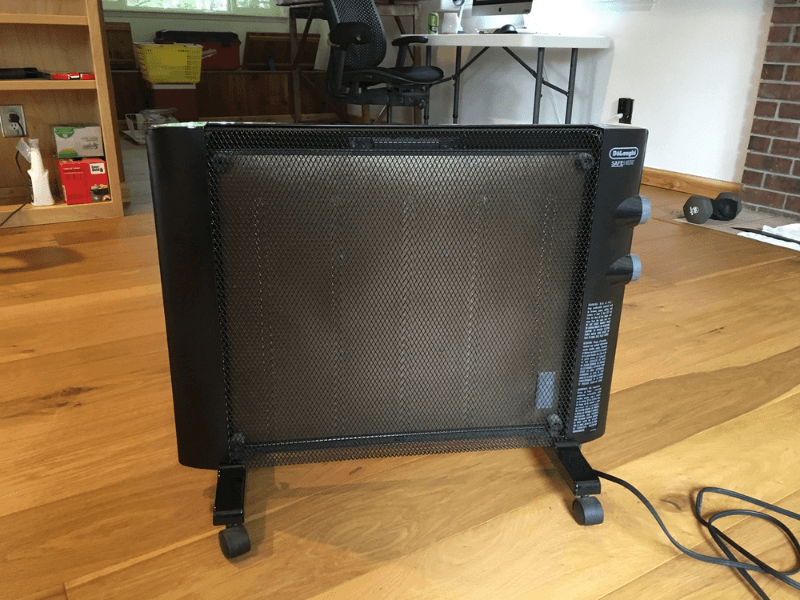 The technology uses mica mineral, which is well-known to be a silicate. It is layered in structure and also shiny. The mineral is mostly found in rocks such as granite, which is why such rocks have a shiny appearance. Not all people know that mica can be used for anything else apart from making certain rocks shiny.
One of the efficient qualities, which becomes particularly useful when using micathermic heaters, is that it is a good conductor of heat and electricity. Like other heaters, electricity passes through an element in a micathermic heater, which then produces heat. The heat from the element heats the mica, releasing electromagnetic rays, which function the same as radiant heat. The rays then warm up objects in your room, and eventually, the air becomes less cold. Because of this, the heat produced by a micathermic heater lasts longer than that of other heaters.
See our in-depth explanation of how micathermic heaters work.
Oil-Filled Radiators vs. Micathermic Heaters
It is evident enough that oil-filled radiators are more popular than micathermic heaters. These radiators operate the same way as micathermic heaters as they heat surrounding objects using radiant heat and convection.
Also, oil-filled radiators operate silently, the same as micathermic heaters. Furthermore, they do not blow hot air to warm up a room, which is efficient as no germs are blown into the air.
Up to this point, micathermic heaters and oil-filled radiators have the same advantages. Let us get to the other benefits that micathermic heaters have and oil-filled radiators do not.
The first advantage is that micathermic heaters warm up your room immediately after turning them on. Oil-filled radiators take a couple of minutes before they warm up the room. The second advantage is that micathermic heaters are lightweight compared to oil-filled radiators.
Moreover, these heaters are also less bulky, making them more portable than oil-filled radiators. The excess weight from radiators is because of the oil in the radiators, which is essential during the healing process.
Size of the Room
Before you buy a heater, you should first consider the size of the room you intend to warm up. You should note that micathermic heaters are efficient because they heat large spaces within the shortest time possible while consuming less power than conventional heaters. If you intend to heat a small room, you should not buy a micathermic heater. Likewise, the size of your micathermic heater should depend on how big the room is; the bigger the room, the larger the heater.
Micathermic Heater Safety
When dealing with heaters, safety is always the primary concern. Likewise, when dealing with micathermic heaters, you have to consider the safety of everything around your house, including children and pets. If you do not live alone, consider buying appliances that have tip-over protection and overheat protection functions.
Micathermic Heater Efficiency
For heat distribution, micathermic heaters use electromagnetic radiation, and thus they use less electricity. Conventional radiant heaters depend on the proximity of objects in the room to distribute heat. This means objects closer to the heater will warm up first, and those far from it may not get enough warmth. The heater will turn off when the entire room is warm enough, which means it may stay on for a long time and consume more electricity.
When you turn on a micathermic heater, the electromagnetic radiation from the heater helps the heat reach all the objects at once. As a result, the room becomes warmer faster, and the appliance switches off when the room gets warm.
A micathermic heater depends on radiant heat and electromagnetic rays to heat that warms up your room. Out of the total heat produced, 20% is radiant heat. The radiant heat makes the heater effective in that it heats the environment instantly, while electromagnetic rays distribute the heat evenly around the entire room.