Diffusers and humidifiers are both designed to freshen the air in your home. A diffuser does this by adding the desired aroma to the air, while a humidifier adds moisture to the air, helping dry combat air.
These two devices are often mistaken to be the same or taken to work similarly. So, is a diffuser different from a humidifier? This article will explore these two home appliances, giving you a better understanding of how they work, their pros and cons, and their differences.
What is a Diffuser?
A diffuser is an electrical appliance designed to expel essential oils or other aromatic plant compounds into the air. Diffusers are a great way to get your house smelling good with the added benefit of enhancing physical and emotional health.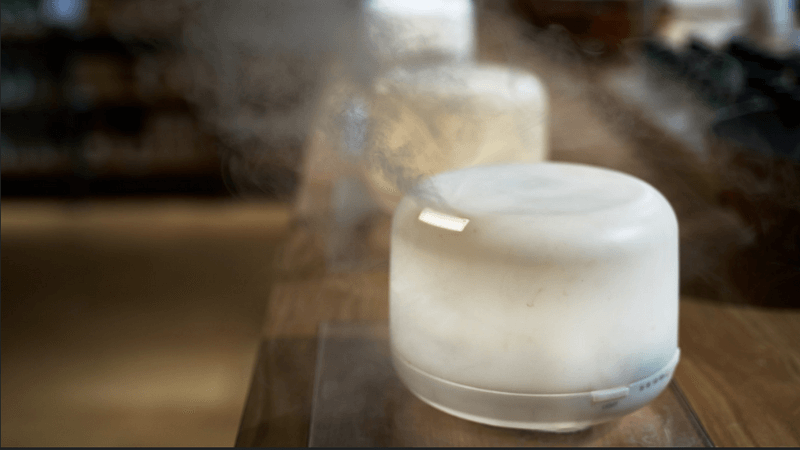 Diffusers come in different types, shapes, and sizes. There are four different types of diffusers available in the market. These are nebulizing, ultrasonic, heat, and evaporative diffusers.
[snippet]
Can You Put Essential Oils In Your Humidifier?
It is not a great idea to put essential oils in your humidifier. This is because humidifiers, unlike diffusers, are not designed to diffuse oils effectively. If you need to diffuse essential oils, you should get a diffuser.
[/snippet]
Diffuser Working Mechanism
There are different ways a diffuser can help create a custom environment in your home, workspace, or office. However, choosing your preferred diffuser type should be influenced by the working mechanism of a diffuser.
At the basic level, a diffuser has one goal, i.e., breaking down the compounds in your favorite essential oils and expelling them into the air for your benefit. However, given the four choices of diffusers available, how do you know which is right for you. Below is a summary breakdown of how each of the diffusers works.
Types of Diffusers
1. Nebulizing Diffuser
A nebulizing diffuser works more similarly to a venturi pump. High-velocity air is blown on top of a tube, creating a vacuum effect that sucks the essential oils to the top of the tube and blows out the diffuser as a fine mist.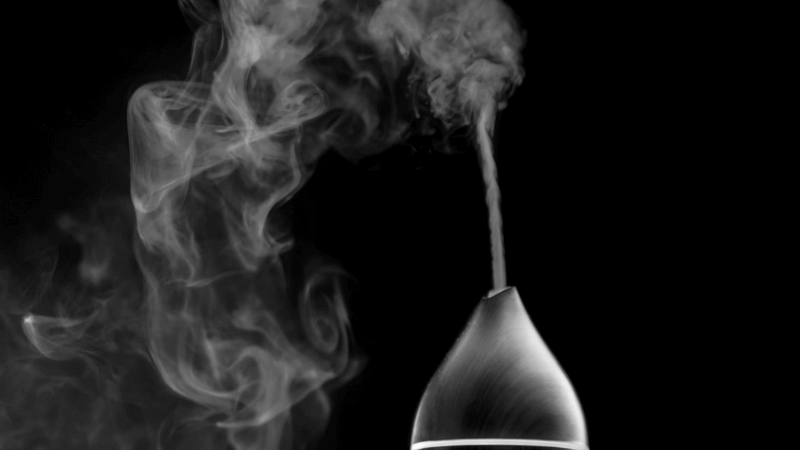 The working principle of a nebulizing diffuser does not alter the chemical composition or scent of essential oils, which brings the most benefits and thus makes it a favorite among many users.
2. Ultrasonic Diffuser
Ultrasonic diffusers are also called humidifying diffusers. Ultrasonic diffusers use water, essential oils, and electronic frequencies to create a fine mist. Water is added first, followed by essential oils.
When the diffuser is turned on, ultrasonic vibrations created by a disk inside the diffuser agitate the water causing the essential oils and water to break into tiny particles. The tiny particles are then dispersed into the air in mist. The process adds an aroma to the air while simultaneously humidifying the air.
3. Heat Diffuser
As the name suggests, heat diffusers use heating properties on essential oils, which breaks up the essential oils (evaporation); thus, adding aroma into the air — heating essential oils using high heat causes a stronger smell. However, intense heating may alter the chemical composition of essential oils, which lessens the benefits.
A good heat diffuser will use very low heat on the essential oils; thus, it avoids drastically changing the chemical composition of the oil being diffused.
4. Evaporative Diffuser
An evaporative diffuser works by passing air through a diffuser filter or pad. Essential oils are added to the filter, and a fan blows air through it, which causes the essential oils to evaporate and spread around the room.
Another type of evaporative diffuser does not require a fan to blow air but instead uses air in the room to slowly diffuse essential oils around a small area. This working mechanism is normally used with personal diffusers like bracelets, pens, necklace pendants, or personal oil inhalers.
[snippet]
How often should you clean your diffuser?
I would recommend cleaning your diffuser every time you change the essential oils. If you do not change your essential oils, cleaning it each time after you diffuse essential oils should be good.
[/snippet]
Pros of a Diffuser
As earlier stated, the work of a diffuser is to expel broken down essential oils into the air for our physical and emotional health. While aromas are an excellent way to keep your home smelling good, depending on the essential oils used, you can reap other health benefits.
Inhaling essential oils is one of the most popular ways to get them into your system. Depending on the essential oils used, you can ease anxiety, enhance mood, clean your sinus, or even help you focus on that project.
Absorption of essential oils through the skin can also give a relaxing or stimulating effect, especially if you have dry skin.
[snippet]
Is it safe to leave a diffuser on all night?
No. I would not recommend leaving your diffuser running all night. The safe diffusal time is between 20-40 minutes. Leaving your diffuser running longer might develop allergies or overwhelm your liver. If your diffuser does not have an automatic timer, you can get an automatic timer (like those sold at the dollar store) to shut off the diffuser after a while.
[/snippet]
Cons of a Diffuser
Though some diffusers cost a lot, the majority of diffusers usually cost less. Diffusers, unless misused, come with very few cons. The main cons you should look out for include
LED lights or lighting features in diffusers that may interfere with sleep. Always choose diffusers where you can adjust the lights when desired.
Other than the above, the use of a diffuser can have effects on your health. If you have a respiratory illness like COPD, bronchitis, asthma, or the like, you should consult your doctor/healthcare professional before diffusing essential oils in your home. You should also check the essential oils you are using to ensure they are safe for pregnant women, children, or nursing ladies.
If you have pets, ensure you have another room they can move to in case they don't agree with the smell. To be safer, check the hazard level for pets of the essential oils you are diffusing.
[snippet]
Can diffusers cause mold?
Yes. Mould needs moisture and food to survive. Without proper maintenance and storage, mold will grow in a diffuser. To keep mold at bay, clean your diffuser thoroughly, and practice proper storage when not using it.
[/snippet]
What is a Humidifier?
A humidifier is a machine that adds moisture to the air. It is a favorite household appliance among people who dread the air during winter time and for those living in dry climates. A humidifier will help a room increase or maintain a certain moisture level.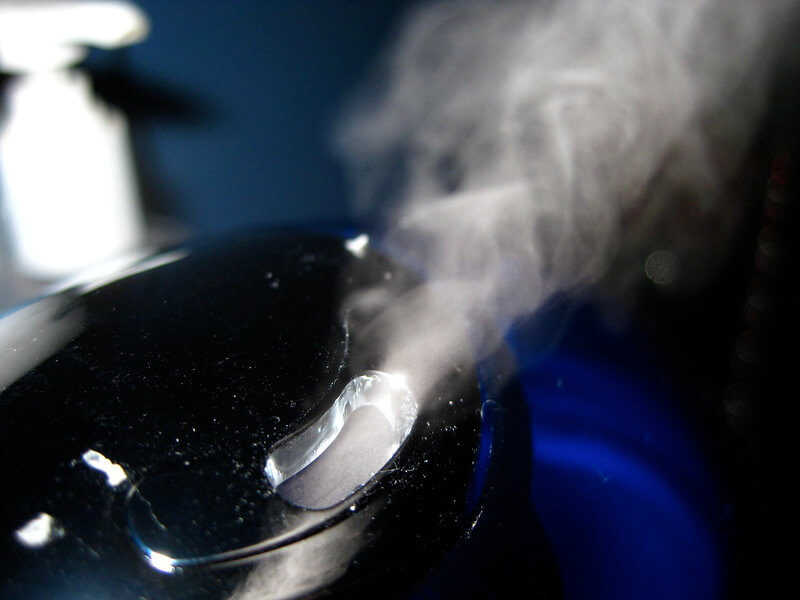 Humidifiers come in four main types; you can choose between them. The type of humidifier you choose depends on your budget, preferences, and the size of the area you want to add moisture to. The four types are evaporative, impeller, steam, and ultrasonic humidifiers.
Humidifier Working Mechanism
Just like diffusers, the working principle of a humidifier will depend on the type of humidifier you have. However, humidifiers have one main objective: to increase or maintain the humidity in your home/office to alleviate dryness. Below is a summary of how the four types of humidifiers work.
Types of Humidifiers
1. Evaporative/Wick Humidifier
Evaporative humidifiers sound just like evaporative diffusers. However, they work a little differently. The system uses a paper, cloth, or foam wick to draw water out of the water reservoir via capillarity. A fan then blows air over the wick aiding the air in absorbing moisture.
The higher the humidity in your home, the harder it becomes for water to evaporate from the wick; thus, this humidifier is self-regulating. When Humidity increases – Vapor output decreases.
2. Impeller Humidifier
Impeller humidifiers work by using a rotating disk called the impeller. The disc rotates at fast speeds, breaking water into fine droplets that come out as cold fog from the humidifier.
3. Steam Humidifier
Also referred to as a vaporizer, a steam humidifier uses heat to boil water and release it as steam into the room. Steam humidifiers are by far the simplest, cheapest, and most popular.
Steam humidifiers, however, should be used with caution because they can cause burns to the skin if not correctly handled.
4. Ultrasonic Humidifier
Just like an ultrasonic diffuser, ultrasonic humidifiers use a disk vibrating at an ultrasonic frequency. The mechanism creates water droplets that are released as a cool fog.
Pros of a Humidifier
Humidifiers are suitable for people who have issues that come because of dry air. Dry skin, cracked lips, snoring, or nosebleeding can all be resolved by using a humidifier. Humidifiers can also ease the symptoms of flu, sinus congestion, cold, and other respiratory conditions.
According to the mayo clinic, the humidity in your home should range between 30% and 50%. Humidity levels that are too low or too high can cause problems. The best way to test humidity levels is by using a hygrometer. Hygrometers can be bought at department stores and hardware stores. However, if you are still shopping for a humidifier, consider buying one with a built-in hygrometer, which maintains the humidity within a healthy range.
The ideal moisture level in your home's air can also prolong the life of the structure and furniture. This is because when the wood is dry, it loses its shape or starts splitting along the edges.
Cons of a Humidifier
While humidifier comes with their benefits, there are several concerns you should be on the lookout for.
First, steam humidifiers can be dangerous if mishandled around children. Steam humidifiers also have the highest energy cost. However, in return, there are mineral and bacterial concerns.
Second, while other humidifiers like ultrasonic and impeller have low energy consumption, if the water in the humidifier contains bacteria, it will be sprayed into your home air, thus causing health conditions. Therefore, cleaning a humidifier's tank regularly and refilling it with clean distilled water is essential. To save time and the danger involved, you can buy high-end humidifiers with built-in antibacterial features. For example, some will use ultraviolet light to kill bacteria.
Lastly, if you use your humidifier frequently without monitoring the moisture content, you will have too much moisture in your home. With too much moisture, mold will begin to grow, or your house will smell stuffy.
Humidifier Vs. Diffusers – The Differences
1. Humidifiers and Diffusers Have Different Purposes
Humidifiers are designed to maintain or increase the humidity and moisture of a room. On the other hand, diffusers add aroma to your home air by diffusing essential oils. Though some diffusers may add humidity to a room, they are ineffective compared to a humidifier, and you will hardly notice a humidity difference. Read about using essential oils in a humidifier.
[snippet]
Are There Humidifiers That Are Also Diffusers?
Yes. Several machines will diffuse and also humidify your home. These, unlike ultrasonic versions, will have a diffuser and humidifier in one appliance. If you want a diffuser and a humidifier, buying a multifunctional device should be budget-friendly instead of buying two appliances.
[/snippet]
2. Humidifiers Have Much Bigger Water Tanks
The size and capacity of water tanks are another striking difference between humidifiers and diffusers. Humidifiers have larger water tanks because they require a large capacity to hold enough water to increase and maintain humidity.
Diffusers, on the other hand, do not require large water tanks. Even ultrasonic diffusers that use water to diffuse essential oils into the air have small water tanks compared to humidifiers. On average, a humidifier will hold 3800ml compared to the diffuser, which will hold up to 500ml.
3. Some Diffusers Don't Use water
Besides the ultrasonic diffuser, diffusers rarely use water to expel essential oils into the air. A nebulizing diffuser is a great example of a diffuser that does not use water. Because of its working principle, nebulizing diffusers give essential oils the best benefits.
4. Health Effects of Diffusers and Humidifiers
Both diffusers and humidifiers have their health effects. However, these health effects (negative ones) come about from using or handling these appliances in a way not intended. Diffusers, misused, might harm your pets or, even worse, your family members or you. Humidifiers can also be troublesome if they are not properly maintained.
Wrapping Up
Both diffusers and humidifiers have different working mechanisms and health benefits. If aromatherapy is not your primary concern, and you need to humidify the dry air in your home, then you require a humidifier. A diffuser will reap the health benefits of your favorite essential oils.
Are you still undecided about the two choices? There are devices in the market that humidify and also diffuse oils. These devices will be a great choice if you are having difficulty choosing between the two.