Space heaters provide targeted heating. This offers an effective way of heating only used rooms in a home instead of wasting the energy on empty or unused rooms. While other people prefer gas or wood central heating, many people use electricity to heat their homes. There are different types of electrical heating systems, and Micathermic heaters are one of them. In this article, we look at a Micathermic heater, how it works, and its benefits.
What is a Micathermic Heater?
A Micathermic heater refers to a space heater whereby the element that heats is usually covered in Mica. On Micathermic heater models, you can either hang it on the wall or place it on the floor.
Instead of relying on one method for heating, a Micathermic heater combines two. They produce heat by a combination of both convection and radiant heating methods. This makes it more efficient compared to the other types of electric heaters. The mineral Mica is the main reason why Micathermic heaters are extremely efficient. The De'Longhi Mica Thermic Heater is still holding up as the best Mica thermic panel heater available in the market in 2021.
Micathermic heaters also use fanless technology, which distributes heat to a room without re-circulating dust or other allergens. This makes the heater great for people who have asthma and other allergies. The fanless design also means they are quiet than different types of space heaters.
See Our Best Micathermic Heaters
How a Micathermic Heater Works
When you turn the electricity on, an electric resistor in the Micathermic heater turns it into heat. The heat is generated; it is absorbed by a series of metal coils covered with Mica. When the Mica is heated to a certain temperature, they emit electromagnetic rays. The electromagnetic rays then heat the room. The electromagnetic heating effect is similar to sunlight.
Micathermic heaters function differently from other space heaters. One of the main differences is the use of Mica, which, when heated, produces electromagnetic rays that heat an entire room.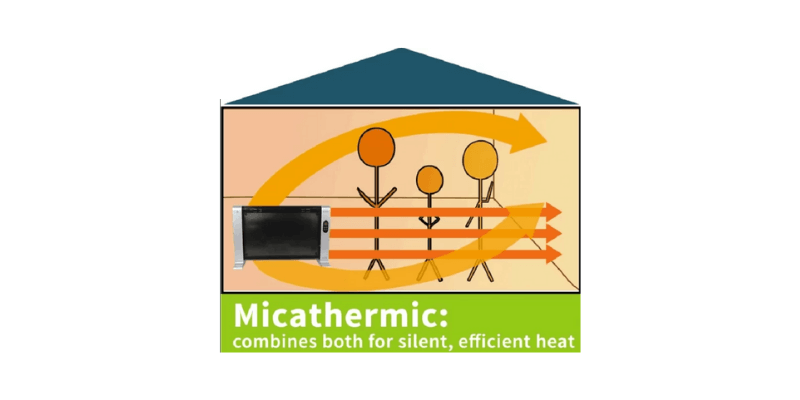 As the electromagnetic rays heat up, they only heat objects in a room like radiant heaters. When the objects in the room are warmed up., they transfer the heat to the room and the air. However, unlike radiant heaters, Micathermic heaters heat all objects in a room at the same time. Because the objects in a room are heated once, the air warms up quickly. This is also why Micathermic heaters heat cold air without using a fan to blow heated air around the room.
Benefits of a Micathermic Heater
Better Distribution of Heat
There are differences in how heaters distribute energy in a room. The Micathermic heater exhibits several differences when compared to the typical heaters. The Mica emits electromagnetic radiation, whereby the heat attains all of the surrounding objects simultaneously. This makes the room warmer at a relatively higher rate as the switch automatically shuts itself off when the right and desired temperature has been attained. This implies that the Micathermic heater needs less time to serve the same purpose as it utilizes less electricity efficiently.
Heat a Room Quickly
The two main types of heat transfer modes in space heaters are convection and radiation. Convection heaters use convection currents to heat a room. Warm air rises and displaces cold air to the bottom, where it comes into contact with the heater and warms up. Radiant heaters emit infrared heat that is absorbed by objects and people in a room. Infrared heating is faster than convection heating, but the further you are from the infrared heater, the less you will feel its effects.
Micathermic heaters use electromagnetic rays to heat a room. Their heating methods combine both convection and infrared heating for faster and effective. Micathermic heaters heat objects first at an equal rate, and the objects heat the air simultaneously. This heats the room faster than other methods.
Less Noisy
Noise is one of the biggest complaints that have been raised before by many people when it comes to the use of traditional healers. The heaters tend to blow warm air around the room, accompanied by a fair bit of noise. This is because they are installed with fans that aid them in distributing the heat. Micathermic heaters work entirely in a silent way because they do not contain moving parts.
Economical To Operate
Mica heaters and all other electric heaters use the same amount of power to heat a room. So, a 2000W electric heater will do the same job as a 2000W Micathermic heater in a room. However, Micathermic panel heaters heat quickly, and in minutes they can make a difference. Because they quickly heat a room, they are energy efficient. The ratio of electricity used and heat produced is also very low. The addition of a thermostat makes them even better.
Safer Than Other Heaters
Convection and radiant heaters pose fire risks by using strong heating sources. This is why convection heaters and radiant heaters have to be kept a little far from other objects. In Micathermic heaters, the heated Mica is not as hot as regular heaters. The transfer of heat by electromagnetic rays is also safer than the other types of heat transfer systems.
Lightweight and Compact
The Mica stones on Micathermic are thin and small that they do not take up much space. This makes them very compact. They are also light to move around.
No Ambient Air Movement
In most cases, the traditional heaters blow air around, which possibly causes bacteria and allergens to move around the room. Micathermic heaters use electromagnetic rays to distribute heat around a room. The lack of a fan makes sure they do not blow air, containing bacteria and other allergens that might affect asthma and allergy sufferers.
FAQs
What is the best Micathermic heater?
Our best Micathermic heater is the De'Longhi Mica Thermic Panel Heater. It is versatile and can be mounted on a wall or used on the floor. It is also very portable and has wheels and a handle that makes it easy to move around a home.
Are Micathermic heaters safe?
The shape and design of the Micathermic heater make it stable compared to average heaters in the market. Interestingly, these heaters can be placed in any location in the room without any possibility of causing harm. Therefore, if you require a better heating and safe heater, you need to consider Micathermic space heaters.
Are Micathermic heaters energy efficient?
Micathermic heaters use less electricity because they charge up quickly and provide heat within a very short period. The new models also include an automatic thermostat that measures heat and room temperature output. Therefore, this makes it easier to use as it regulates itself with ease.
Can I place my heater against the wall?
In Most heaters, you are not supposed to place them against the wall because of the design of their making. In most cases, air intake is put in front of the heater, and thus, placing it at the wall might make it less efficient.
Why does my space heater smell like it's burning?
When you turn on the heater, the dust inside burns to release the bad smell; however, it is normal to burn once you lit up the heater, especially during the winter. This should not cause concern because it usually happens once when you have not used the heater for a while. The smell should not last long, and if it persists, there is a need to check on your filters.
What type of space heater is most efficient?
The efficiency of a heater depends entirely on features and how it can satisfy consumer needs. For example, some space heater uses more energy, but they do not deliver efficiently. The
Dr. Infrared Portable Space Heater
has a good energy-saving feature and warming capacity, but it is best used in large rooms. But the most efficient and the one that you can mount on the wall and be sure that they will circulate warmth, look for the
Stiebel Eltron 074058
In Conclusion
Micathermic heater panels' ability to produce radiant and convection heat with less electricity makes them serve a better purpose in our homes. For people who utilize electricity for heating their homes, Micathermic heaters are a good option you can try out. They are very efficient and can heat up small to middle-sized rooms efficiently. Their methods of heating also make them good at heating larger areas. They are also quiet and safe to use.