A dehumidifier helps to remove excess moisture in a home and regulates the humidity. Once the dehumidifier reservoir is filled with condensate, it needs to be drained to continue working. To keep the dehumidifier working effectively, draining it regularly is required. However, if you cannot manually drain your dehumidifier, automatically draining it to the outside ensures smooth, worry-free operation.
There are several ways you can drain your dehumidifier. in this article, I will talk about three ways you can drain a dehumidifier automatically to the outside. Whether your dehumidifier has a pump, these methods will work for you. However, your dehumidifier needs to have a gravity drain, specifically a dehumidifier with a hose-to-drain option.
1. Use a Dehumidifier with a Draining Hose
While all dehumidifiers come with a reservoir for collecting condensate, some will include a drain hose option that lets you use gravity to drain condensate. This is a low-cost option you can try if your dehumidifier and home meet the requirements. The key to this way of draining a dehumidifier is it only works using gravity.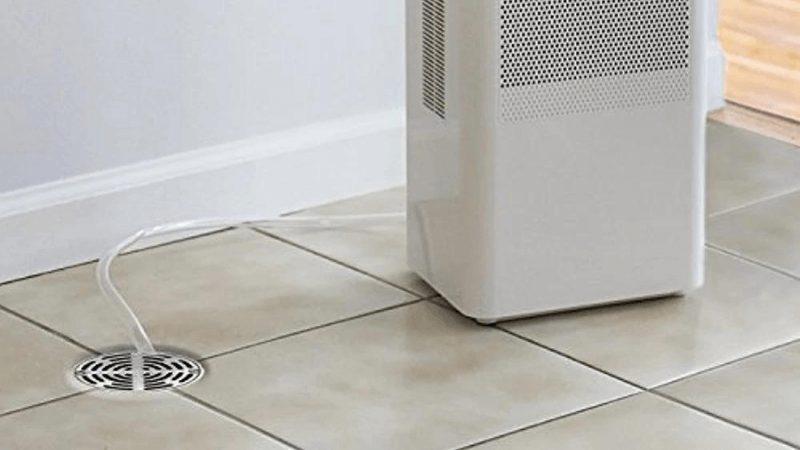 First, a floor drain is required. If your home or basement has no floor drain, please jump to our second method. If your home has a floor drain, you need to find the gravity drain port on the dehumidifier and hook up a hose. Mostly, a draining hose is included, but in case your dehumidifier does not have one, you can try a standard garden hose. Your dehumidifier should also be set up near the floor drain for proper drainage.
Once you have hooked up the hose, next up is setting up the dehumidifier. Because this method uses gravity, raising the dehumidifier on a table will have better results. Find a table or a raised surface that can carry the weight of your dehumidifier. The table should be flat and also stable. Next, fill the dehumidifier tank and direct the hose to the floor drain. Get the dehumidifier running and see that there are no leaks and it is properly draining.
If the setup is good and properly running, manually drain the water added and leave the dehumidifier to continue running.
2. Use a Condensate Pump
A condensate pump is a pump that is used to drain condensate from appliances that create a buildup of water, such as air conditioners, dehumidifiers, refrigerators, etc. The pump channels the water through pipes to the outside of a building for proper drainage. A condensate pump is a good option if your home does not have a floor drain or a place to drain your dehumidifier.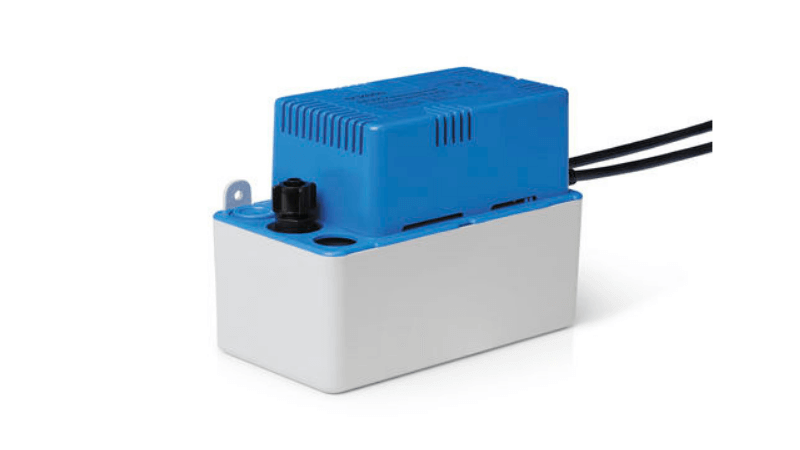 First, your dehumidifier needs to be set up to drain water through gravity properly. A table or a raised stable surface is a good option. Attach the hose to the dehumidifier and direct the other end of the hose to the condensate pump. Turn the dehumidifier on and also the condensate pump. Once the collected water reaches a certain height in the condensate pump tank, a float mechanism will trigger the pump to start pumping.
You can direct the pumped condensate into a sink, laundry tray drain, out of the window, or any available location. Condensate pumps can push water horizontally or vertically. If your dehumidifier is set up in the basement, most condensate pumps can push water up to 15 feet. This will easily reach through and out of the basement via a window or door to the outside.
The DiversiTech CP-22T Condensate Pump is a good option if you need to pump condensate from your basement or crawl spaces. The pump has a 22 feet lift or about 6.5 meters, which is more than what condensate pumps offer. See also our guide on the best condensate pumps for a dehumidifier.
3. Get a Dehumidifier with a Pump
If you already have a dehumidifier, this might not be an economical option. However, if you are looking for a dehumidifier that can run automatically with no supervision, one with a built-in pump is the option to buy. We have a guide on the best dehumidifiers with a pump you can check out.
Ivation Dehumidifier With Pump
This Ivation dehumidifier is powerful, quiet, and reasonably priced. It quickly works to lower the humidity, and once the bucket is full, the inbuilt pump can help remove distillate. Overall, this is one of the best humidifiers we've used.
We earn a commission if you make a purchase, at no additional cost to you.
Most dehumidifiers with a pumping mechanism will include a long drain hose to fit the model. In our tests, most dehumidifiers have a pumping height of 15 ft. Our favorite model, the Ivation IVADH70PWP2, has a pumping height of 16.4 ft. The main advantage of a dehumidifier with a pump is it can run automatically without you worrying about its operation. It is also good for use in harder-to-reach places where manually draining the dehumidifier is hard.
Happy Draining your Dehumidifier
Draining a dehumidifier manually is not possible for most people. Draining a dehumidifier via a hose is the most practical and easy option for continuous application. Choosing the right dehumidifier water removal option will depend on your dehumidifier is key to ensuring a smooth-running operation.