Pets in homes are great for companionship, however, they can also make the air you breathe a perfect recipe for respiratory health problems and allergies. According to the Asthma and Allergy Foundation of America (AAFA), allergies to pets with fur are the most common. Three out of 10 people have allergic reactions to cats and dogs in the United States. Living with pets does not have to be hard. in this post, I share how you can remove pet hair from the air and also several ways of reducing pet dander in your home.
How to Remove Pet Hair From Air
1. Invest in an Air Purifier
A quick and fast way of getting rid of pet hair from the air is by using an air purifier. However, not all air purifiers are designed to combat pet hair and dander in the air. There are different types of air purifiers in the market with different technologies that will filter certain contaminants in the air.
To combat pet hair and dander, you should get an air purifier that will effectively remove pet hair, pet dander and also eliminate the odors and allergens created. HEPA air purifiers are the best at dealing with pet hair and dander because the filters are dense and to catch even the smallest particles in the air.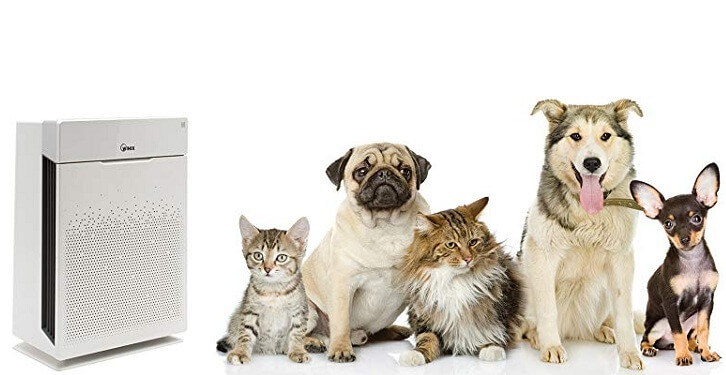 The Winix HR900 is one of the best air purifiers for pet hair. The air purifier is specifically designed for pet owners. The Winix HR900 promises to collect and capture pet hair and dander in the air. So far, it does a very good job so I have not reason at all to refute their claims. A mesh pre-filter collects the pet hair which should be removed and washed regularly to avoid build-up. The Air purifier also has a filter for catching small microscopic pet dander and a carbon filter that absorbs pet odors.
2. Use Balloons
If you are not ready to invest in an air purifier, then using ballons is the cheapest method you can use to control pet hair. This trick is especially better and fun if you have kids in your home. Most school-aged children know that rubbing a balloon on hair generates static electricity. This trick can in turn help owners get rid of pet hair.
First, buy a balloon and inflate it. Take the balloon and rub it on your pet's hair to generate static electricity. Once there is static, move the ballon around your home and watch pet hair cling to it. The ballons you have, the faster you will pick up pet hair. You can also run the ballon over furniture or carpet to collect pet hair. Once the balloon is covered with a lot of hair simply wipe or run the ballon under water to remove the hair.
3. Use a Fan and an Air Filter Mesh
High Particulate Air Filters also known as HEPA filters are very effective in catching and trapping very small particles compared to standard filters. Most air purifiers and air filters use HEPA filters to clean the air. However, HEPA air filters are expensive, so they might not be a viable option. Instead, purchase a cheaper option like the MERV 4 Smile Cut-to-Fit Synthetic Air Filter.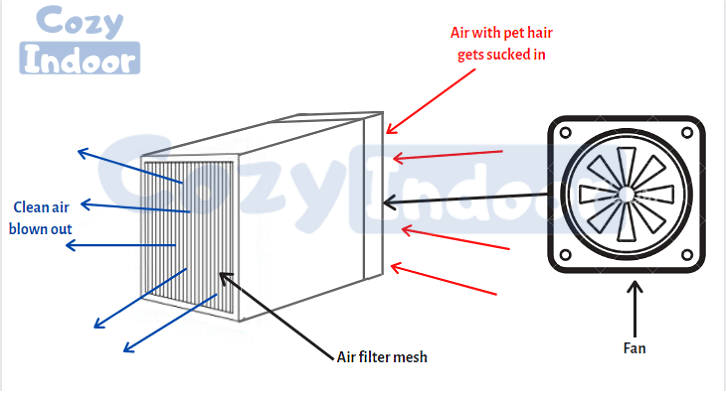 After getting your air filter, build a box enclosure such that the front part includes the mesh air filter and the back part has the fan like below. A box fan can be a great option is you can get one but most types of fans will do. When the fan is turned on, it will suck and force air to move out of the mesh air filter. The filter will inturn trap pet hair which you can then collect and dispose of.
How To Prevent Pet Hair from Being Airborne
Regular Pet Grooming
Do not wait until your cat or dog is matted to start grooming it. Keeping them brushed and combed should cut down on the amount of stray hair they release in your home. If you are a busy pet owner or have allergies, then you should schedule grooming appointments with a pet groomer. Apart from keeping the pet clean and safe, regular grooming will also save you on the time it takes to sweep or mop around your home. An occasional bath should also be on your list as part of the grooming.
Use a FURminator
A FURminator is one of the perfect tools that should keep pet hair from shedding and becoming airborne. A FURminator is a tool that combines the traditional pet brush with razors to help strip any loose hair from your pets before shedding off. You can get a FURminator Undercoat Deshedding Tool which can work perfectly for your dogs or cats. However, for best results comb your pet outside to keep your home hair and dander free.
Damp Cloth and Sponge
Dusting or trying to wipe around your home using a dry cloth or sponge will force pet hair and dander that has settled to fly everywhere. Instead of using a dry cloth, dip it in water to make it a little damp. This will prevent pet hair from going airborne and you can also effectively pick up the collected hair.
Use a Squeegee
You might be surprised at the amount of pet hair that collects itself on carpet floors and rugs. Why does a vacuum cleaner miss so much? Using a dry rubber squeegee, wipe the carpet and see the piles of pet hair you will collect. Before vacuuming you can start by using a squeegee to rake off the pet hair first.
FAQs
Do air purifiers help with pet hair?
Yes. Air purifiers are a fast and easy way of removing pet hair in your home. However, be sure to choose an air purifier that is well built to handle pet hair and dander effectively. I would recommend the Winix HR900 is you are looking for a great option that works.
How do you control dog hair in the house?
The first thing you should do to control dog hair around your home is to groom the dog regularly to ensure it does not shed much around the home. Grooming should be done outside or in a safe place that will not contaminate your home. Apart from grooming your dog, your home should also be cleaned regularly to avoid build-up of dog hair.
Which dogs shed the most?
According to different sources, the top 10 dog breeds that shed the most include Akita, Alaskan Malamute, Labrador Retriever, American Eskimo, Chow Chow, Airedale Terrier, Alaskan Husky, German Shepherd Dog, Siberian Husky, and Great Pyrenees.
Can I vacuum my dog?
Vacuuming your dog is safe, however, you have to use the right equipment when vacuuming. Using the vacuum cleaner in your home could hurt the dog because of the high suction force. Most dogs are also scared of a vacuum cleaner. However, you can get special attachments that are specifically designed to vacuum a dog.
How do you get pet hair out of the carpet?
Pet hair can be stubborn to remove especially on carpets. However, you can easily use a rubber squeegee to remove pet hair before you vacuum. If you do not have a squeegee at your disposal you can also add use a fine mist bottle to spray the carpet then brush it with a stiff-bristled brush.
In Conclusion
Pets are a part of the family and living with them does not have to hard. However, for health concerns, it is better to properly take care of your pets and your home. Following the above tips should help you get rid of airborne pet hair. You should also take a step further and ensure you minimize the amount of pet hair shedding in your home. Are there any other ways you know of dealing with pet hair in the air? Comment below to share with us and other readers.