When it is a hot and humid day, a fan is a great option to help move air around. Cooling fans have been around for years and come in handy during the summer months. Choosing a fan that can move air around and keep a room cool gives you an advantage when the hot weather hits its peak. In this article, we have compiled a list of the best cooling fans for rooms. This list will is updated regularly to include new fans and replace inefficient models. Enjoy.
Best Cooling Fan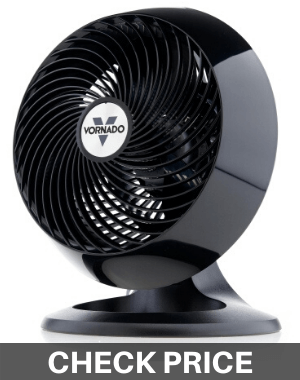 Type: Floor/Desk Fan
Oscillating: No
Fan Speeds: 4
Pros: Moves a lot of air, good for large rooms, quiet operation in the first and second speed, well built
Cons: Gets noisy on third and fourth speed, no oscillation,
The Vornado 660 Whole room circulator fan is your best choice if you want a powerful fan to air around a room. According to Vornado, the Vornado 660 uses Vornado's signature Vortex technology that creates airflow around a room and also between adjacent room. They also claim that the fan is so powerful it can pull air down a hallway and even up a stairway. Let's get into the details below.
The Vornado 660 is a very compact fan. We have categorized it as a floor fan, but it can also work straight from the top of your desk. Everything about this fan is great. First, the build quality is solid. The fan is well-engineered and features hard and quality plastic. The base is wide and features rubber knobs that hold the fan quite well. The Vornado 660 does not oscillate, however, the top part can tilt up to 90 degrees. Once set at your preferred angle, the fan should its work.
The Vornado 660 is an air circulator fan, which is why it is capable of moving a lot of air. The fan is not built to direct air towards a person. The Vornado 660 is great for moving air around a room. If you have a window open and would like to move cool air around, this is the perfect fan for the job. The fan comes with four-speed settings. For the first two speed, you can barely hear the fan, however, it gets noisy at the third and fourth-speed settings.
The fan does not come with a remote, and the only way to adjust it is by manually reaching the buttons on top of the unit. The power on/off and the four-speed settings are located on top.
overall, if you are looking for a good fan to cool down a room, you cannot go wrong with Vornado 660 Air Circulator Fan. This powerful fan can move air even in larger rooms effectively. It does not pack a lot of features like other fans on this list, however, it does what it is supposed to do very well.
Best Bladeless Fan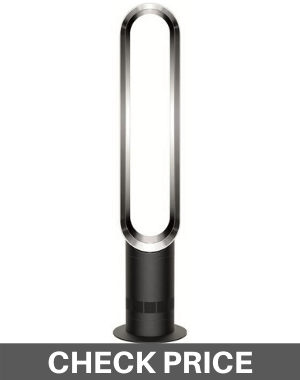 Type: Tower Fan
Oscillating: Yes
Fan Speeds: 10
Pros: Easy to clean, bladeless technology, smooth and even airflow, unique design, and styling
Cons: Feel a little cheap, expensive
Dyson has made a name for themselves in household fans. The bladeless fans by Dyson are one of the most popular. Their innovative design allows them to cool down a home quietly, yet the bold new styling makes Dyson bladeless fans a very sought after type of fan. The Dyson AM07 in this review is one of the most popular of the Dyson bladeless fans. This is because of the lower price range, style, and overall performance.
The build quality of the Dyson Cool AM07 is very good even though nearly all of it is made out of plastic. It is also surprisingly lightweight weight that it kind of feels a little cheap. However, the fan itself practically screams 'quality'. It is a tower fan and a very innovative one for a fact. The Dyson Cool AM07 also oscillates to cover a large area. With 90 degrees oscillation, you can place the fan at a corner and have it more air through the whole room. A few models, including our top pick, have a higher oscillation than the AM07.
Dyson has done a lot of marketing on how their fans work, so I am not going to touch on that. The performance of the AM07 is exceptional. The airflow out of the unit is slower, more even, constant, and softer. The fan is ultra-quiet, but as you move up the speeds, you can hear a little noise which is not a bother. The fan has 10-speed settings that can easily be controlled from the remote or a button at the bottom of the unit. The remote is small, but large buttons make it easy to use it. The remote is magnetized for storage on top of the unit. This is a plus considering the remote can easily be lost between the couch cushions.
Overall, for the price, you are not only paying for the AM07 to cool down a room, but also because of the overall design, styling, and new technology of this bladeless fan. As a standalone fan, there are other options you can pick in this list that match up to the Dyson Cool AM07. However, the incredible engineering in this unit makes it a good choice if you prefer a unique design that stands out.
Most Quiet Cooling Fan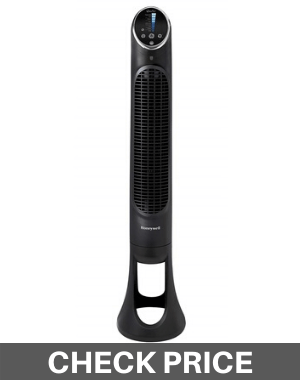 Type: Tower Fan
Oscillating: Yes
Fan Speeds: 8
Pros: Quiet when in operation, easy to assemble
Cons: Not very powerful
Honeywell is one of the best brands in the household fans niche. They have a large selection of fans from tower fans, box, floor, and many others. The Honeywell HYF290B Quietset is an oscillating tower fan. For the price, the HYF290B offers a lot of versatility and features. It is also one of the quietest fans on this list.
The Honeywell HFY290B is all plastic and the fan feels very light. Overall, the construction and build quality feel pretty decent. Apart from the build quality, the HFY290B is also very easy to set up and get running. The set-up is simply a matter of snapping together the plastic parts. No tools are required to set it up.
For cooling, the HFY290B does not push out much air. The fan has eight-speed levels and even at the highest setting, if you're far away you can hardly feel the breeze. The highest level is, however, sufficient to cool down a medium room. The main selling point of the Honeywell HFY2908 is how quiet it is when running. Even when using the highest setting, and the fan still oscillating, you can hardly hear it operate. This makes it a good option if you are looking for a quiet bedroom fan. Other features like white noise settings also make it a great sleeping fan.
The fan comes with a remote that controls the power, speed settings, and oscillation. It is small and docks at the back of the fan out of sight when not in use. Apart from the remote, the HFY290B has a top control panel that also lights up. The lights can be set from 100% down to 25%, or you can turn them off altogether.
Overall, the Honeywell HYF290B Quietset is a great fan. It is not very powerful even at it's highest setting but works well. The fan is designed more to be quiet rather than powerful. This makes it a better bedroom fan option to pick.
Best Cooling Fan for Large Spaces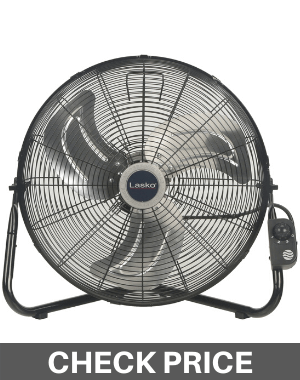 Type: Floor/Wall-mount Fan
Oscillating: No
Fan Speeds: 3
Pros: Moves a lot of air, well built for the price, it can be hung on the wall, stable on the floor
Cons: Short power cord
The Lasko 20″ 2264QM model is a powerful fan that offers the options to either use it as a floor or a wall-mount fan. If you are looking for a versatile option, the Lasko 2264QM is a good pick in this list.
The Lasko 20″ 2264QM is made out of mostly metal, which seems sturdy and also very portable. The blades and housing are metal, while only the control is made of plastic. The fan is easy to assemble with no tools required and took less than five minutes. We also found it easy to clean by just popping open the front grille. It also includes a handle that can be used to move the fan around. The best thing about this fan is that it can easily convert from a floor fan to a wall-mount fan using an included wall mount.
The Lasko 20″ 2264QM has fantastic airflow. The fan, though made for use at home has the qualities of industrial fans. While industrial fans cost 3-4 times, at a fair price, the Lasko 20″ 2264QM creates serious airflow. The fan is of course not whisper quiet. The fan comes with three-speed settings. At the lowest speed, the fan still moves air and is also quiet. For the second and third speed settings, the fan is loud and very powerful because it is a high-velocity fan.
When it's humid, your house is getting warm, and no breeze outside, the Lasko 20″ 2264QM is the perfect beast to move air around. The set up is fast, and you can use it as a floor fan or a wall-mount fan. If want to watch the TV while the fan is running, this not your fan. However, for sleeping, the fan is good is like white noise. Just remember to use the lowest speed setting.
Best Tower Option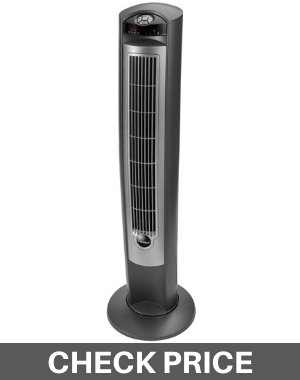 Type: Tower Fan
Oscillating: Yes
Fan Speeds: 3
Pros: Easy to assemble, does not take too much space horizontally, remote control
Cons: White Noise when working, top buttons seem hard to press
Based in Pennsylvania, Lasko offers a wide range of home appliances including fans, heaters, air purifiers, humidifiers, and other accessories. The Lasko Portable Electric 42″ Oscillating Tower Fan is a good fan to cool down a room. The model we feature in this review is the Silver T42951.
The Lasko T42951 is a tower fan, which is a great option if you lack a large area or in case you need a cooling fan for your dorm, kitchen, bedroom, or even for an RV. It is tall which works great if you like to feel a breeze a bit higher like on a bed. The top part of the fan also adjusts to vent air up or down for your needs. The base of the T42951 is sturdy, and it does not experience rattling when in operation.
The Lasko WindCurve T42951 has three-speed settings, it oscillates and comes with a built-in timer. The fan speeds are quite good even at the lowest speed. The fan is slightly loud when working. It is like white noise, so if you are sensitive to white noise, I would suggest looking for other options. The fan comes with a remote which is handy when you need to adjust the speed, set the timer, or adjust the vent at your comfort.
Overall, for a medium or small space, the Lasko T42951 is a great option. The design is unobtrusive, but the slightly loud operation is a disadvantage if you are searching for a quiet fan. As a fan, it works well by generating lots of cool air. It feels solid and looks attractively versatile with its silver finish.
Best Standing Cooling Fan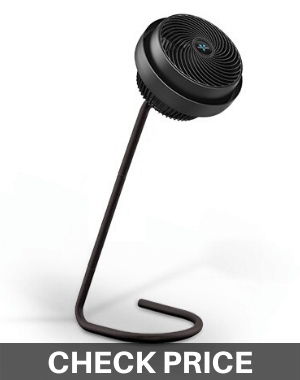 Type: Standing Fan
Oscillating: No
Fan Speeds: 3
Pros: Moves a lot of air, cools down my room at any of the 3 settings, relatively low noise, Quick and easy assembly
Cons: High setting is little too loud, the base design could be improved
If you are looking for a Vornado 660 alternative, the Vornado 783 air circulator fan might just be your choice. The fan is powerful and can also move as much air as the 660. The major difference is in the build of the fan. While the 660 is a desk or floor fan, the 783 is a standing fan air circulator.
The build quality of the fan is excellent. Most of the fan features plastic except for the plastic and motor. However, the plastic seems thick and not cheap and flimsy like some fans we've encountered. The stand and base are made of a hollow metal that can be adjusted to increase or decrease the size. It is easy to assemble the fan with screws, the base, and one standpipe. The footprint of the base is small and overall does a great job of keeping the fan stable.
If you need to move air around a room, then this is a good bet. Even in a large room, the Vornado 783 can still move lots of air around. The adjustable height gives it the advantage of pushing air over obstacles. The fan's head can also tilt to a different angle, which can help focus air even higher. The Vornado 783 has three different speed settings. At the lowest setting, the fan can create a slight breeze across a room. While most fans are unusable in their lowest settings, the 783 still moves air and also very quiet. The highest setting is best to move air around. Just point the fan to an exact spot and let it circulate the air around a room. However, the highest speed setting does get louder. The second setting is a good option unless a room gets hot.
Overall, Vornado 783 stand fan is a great option to move air around a room. Unlike, the Vornado 660, this can easily move air around obstacles efficiently. The design of the base is great if you are not going to bump the fan, which creates a precarious balance. It is great in a living room, but can also be used in the bedroom with the lowest speed setting.
Another Standing Cooling Fan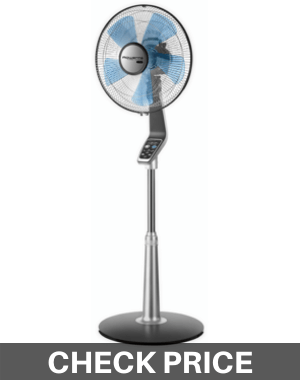 Type: Standing Fan
Oscillating: Yes
Fan Speeds: 5
Pros: Base is nice and heavy, silent and powerful airflow, adjustable height
Cons: Build quality, basic remote
Rowenta, a German brand offers a wide range of products from vacuum cleaners, steam generators, irons, hairdryers, fans, and other home appliances. The Rowenta VU5670 is a standing fan which is very quiet for the amount of air it moves.
We have always associated German products with quality. Headphone manufacturer Beyerdynamic has one of the best-built headphones around. Rowenta, being a German brand, does not live up to the standards. Rowenta VU5670 stand fan has a little poor quality. The base is big and heavy, which is good to avoid the fan from toppling over. However, the parts that connect the top and bottom parts are made of plastic. This gives the fan a weak point and prone to failure. However, only time will tell.
Other than the build quality, the fan is easy to assemble with easy to follow illustrations. When running, the fan is quiet as Rowenta claims. The powerful airflow is enough to cool a room during the summer months. The fan has five-speed settings including turbo boost and silent night mode. All the speeds are quiet. The stand fan can be adjusted from its normal height of 3.5 ft to 4.5 ft. This gives the fan an advantage for cooling over objects.
The fan also oscillates to cover a larger area. Oscillation is also silent, but you have to reach the fan to turn oscillation on/off. The remote comes with basic power on/off, speed settings, and a turbo boost buttons.
Overall, for the price of this fan, It would have been better to have a better-built unit. The remote is also pretty basic particularly because it lacks the oscillating button. Other than those two cons, the fan can handle the job of cooling down a room.
Cooling Fan Buying Guide
Types of Home cooling Fans
Fans can be categorized into the design or based on the style. Each of the different types of fans comes with their characteristics, different use, and each has its advantages and disadvantages. The type of fan you select should be based on both your preferences and other factors like the size of your room in question, features you need, the size of the fan, etc. Below are some of the fans you can use to cool down your home.
Ceiling Fan – A ceiling fan is one of the most common types of fans in most households. A ceiling fan is usually mounted on the ceiling of a home. When suspended from the ceiling, ceiling fans are convenient because they are not obstructive, and you don't need to hassle and pack them when the colder months come up. Ceiling fans have are normally mounted with 3 or even more blades which rotate to circulate air evenly around a room.
Tower Fan – Tower fans as the name suggests have a long housing unit where the cooling apparatus sits along with the tower fan's height. They are popular because they are compact and also very powerful. They are also very quiet when in operation and offer more features such as air-purifying capabilities, timers, oscillating options, and much more. Because of their size, they can be used even in cramped up spaces to cool and encourage airflow.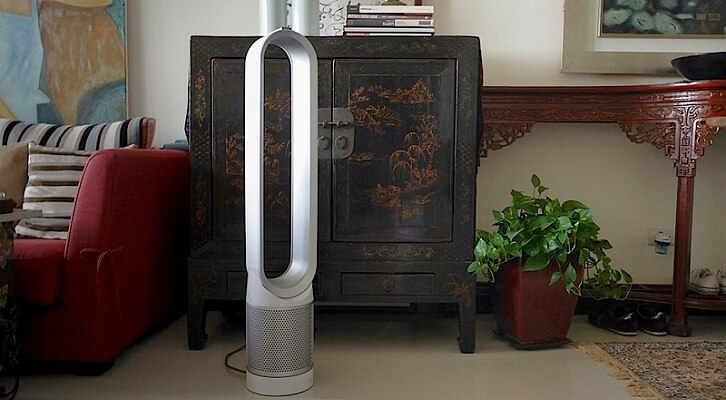 Pedestal Fan – Pedestal fans working mechanism is similar to a tower fan. However, pedestal fans are big and powerful than tower fans. A pedestal fan consists of large blades that rotate inside a mesh-like housing. The housing is suspended on a stand that is height adjustable, which makes them very versatile. They are best for directing air above the ground, which makes them great for bedrooms and living rooms.
Window Fan – Windows fans are designed to sit in an open space like a window where they can suck in cool air and exhaust hot air out. Most window fan design configurations will either feature one fan or two fans also known as a twin window fan. Though a window fan is good at cooling down homes, the air they suck in can harbor contaminants, which will make their way into your home. To avoid this you can select another type of fan or get a window fan with an air filter.
Desk/Table Fan – Desk fans are like portable fans and offer a quick way of cooling off. They are compact and are ideal in the office or at home where you can just plug them in, and enjoy the airflow. A table fan is a good and quick way of cooling off while working or at home. Desk fans are also very portable and very economical.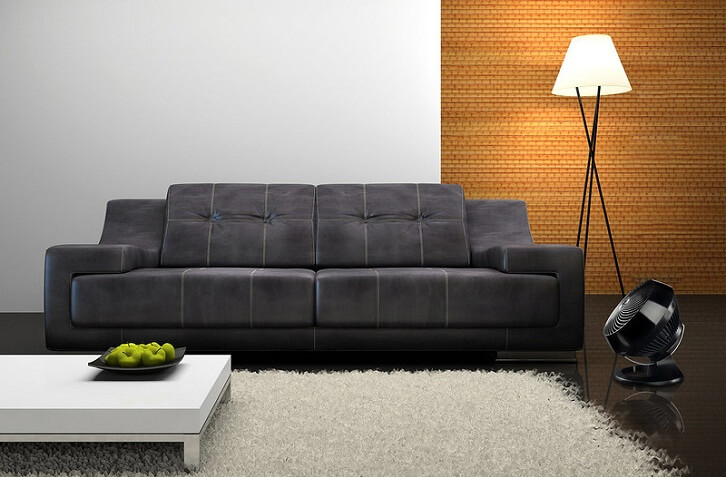 Misting Fan – Misting fans look similar to pedestal fans. However, their working principles are different. Misting fans combine their powerful airflow with water for a very effective cooling experience. Water is added then pumps' in the misting fan blow it at high pressure. The pump's nozzle also breaks down the water into fine droplets (mist), which are circulated in a room by the fan. The mist produced is also very light so you don't have to worry about getting your clothes, furniture or anything else wet. A misting fan is also a great alternative to adding moisture to your home.
Whole House Fan – Whole house fans are a great, and cheap way to cool down a room compared to an air conditioner. The fans depending on the design of your home can either be installed in the ceiling or attic. They exhaust hot air from your home and draw in cool air. Hot air is less dense and thus goes up while cold air goes down. When hot air rises, a whole house fan blows it out through the vents installed in the ceiling or attic. Cool air is then drawn in from windows, vents, or openings. Though a whole house fan is a great way to cool down the whole house, they also have some disadvantages. If you live in a dusty, pollen-laden, or extremely humid area, the fan can carry these problems indoors, which will come with its set of problems.
Location of the Fan
The location of a fan will largely affect which type of fan you get. If you want a fan that can cool a whole room, a ceiling fan is good to go. A whole house fan is installed in the ceiling or attic and is good for cooling the whole home. A window fan is great for sucking in cool air and can be installed on a window or an opening in the wall.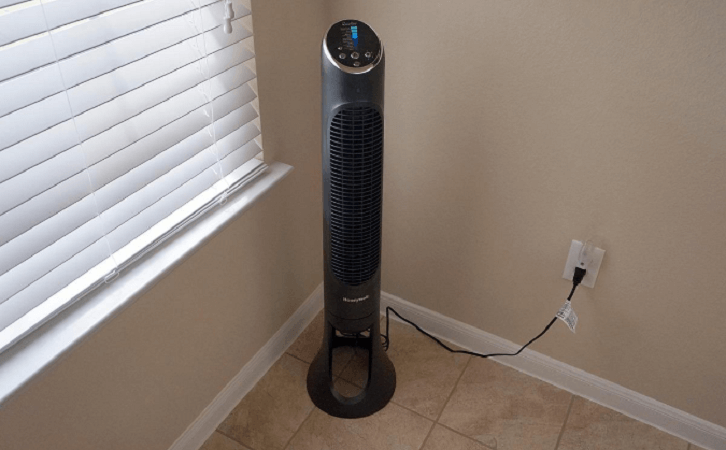 The location of a fan will also help you determine the size of the fan, its power requirement, and the cooling capability. A desk/table fan is great to sit on your desk, perfect for compact space, and it is also very portable. Pedestal fans are great because they can be adjusted to blow at a lower or higher height.
The features of a fan will also influence its location. Remote controlled or fans with long power cords can work even in less-accessible areas, where they have a better cooling impact and also keep out of the way. Exhaust fans like windows fans or whole house fans should be placed near an opening to allow them to distribute cool air into the home and hot air out.
Size of the Cooling Fan
Deciding the size of the fan is also an important decision in determining how effective the fan will be in cooling down a room. Several variables should influence the size of a cooling fan. If you have a larger room to be cooled, a bigger fan is the right choice. If you have a small room to be cooled, a smaller fan is the best option.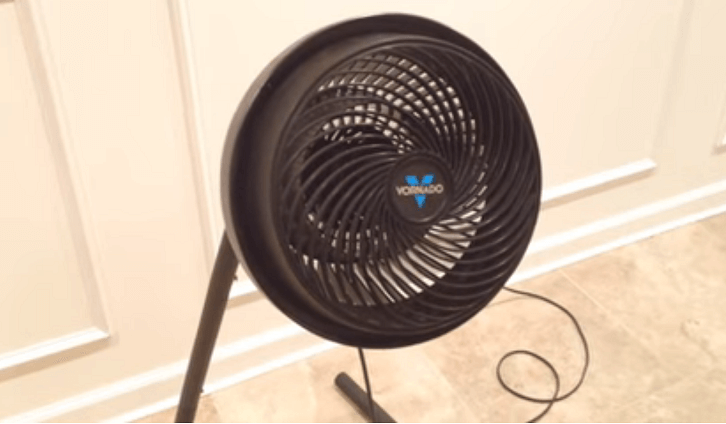 Power of the Fan
The power of a fan is measured by the airflow it produces. When choosing a fan you should check out for the CFM rating (Cubic feet per minute), which represents the volume of air a fan circulates in a given minute. Depending on the way you plan to use the fan, you should take into consideration the cooling power the fan is going to produce.
When checking the cooling power of the fan, you should also check it's power consumption. If you already have a cooling system installed in your home, and you are buying a fan to cut down the costs, be sure to check its power consumption. Ideally, a fan you buy should put out more airflow than the power it consumes.
Cooling Fan Features
Apart from the common features, fans these days come with several features that increase their user-friendliness and allow you to customize the fan. To make it easier to settle for a fan, write down the features you want and try to compare the models that closely fit your preferences. Common features you might need in a fan include programmable timers, different fan speeds, remote controls, adjustable height, and fan angle, misting capabilities, oscillating louvers, or other features. It is difficult to find a fan that will fit all your needs. Try to identify a fan that has most of the features you need.
Fans vs. Air Conditioners
Almost every new home here in the USA uses some sort of air conditioning. According to a 2015 survey by EIA (U.S. Energy Information Administration), 90 percent of American households have air conditioning. Air conditioners are also responsible for consuming about 17 percent of household electricity consumption.
Ditching air conditioners for fans is a lot cheaper, and they are also effective. Household fans have evolved over the years making them even better at cooling a limited space than air conditioners. However, though running a fan is way cheaper, these two are different. In some situations, an air conditioner will suffice, in others, you will need a fan. You can also choose to run both a fan and the air conditioner, which gives you the benefit of air conditioning at a cheaper cost.
Also comparing the running cost both an air conditioner and fan is a very deep subject. These two devices work entirely differently. Though some fans are capable of lowering the temperature, most of them do not do it. A fan simply moves air around and faster over your skin, which makes you feel cooler. However, at some point, it is going to get uncomfortable. Apart from the common fans, you can also check into whole house/ attic fans, which are a very cost-saving and effective way to cool down a home using a fan.
Air conditioners work by taking in the hot air in your home and exhaust it outside. It also draws in air, cools it down before being released back into your home. The good thing about air conditioners is they work to keep your home at the desired temperature. However, to achieve this they consume a lot of energy than fans, though they are very effective.
A fan is cheaper to run and maintain over time. When placed in a suitable position, a fan will blow cool air around the home. However, fans are not an effective solution because most lack a cooling mechanism. Air conditioners on the hand an expensive to run and maintain. However, they are very effective.
Blades or Bladeless Fans
Bladeless fans commonly popularized by Dyson, are said to be one of the safest, quieter, and more power-efficient. Normally, when people talk about fans they tend to think of two or more blades attached to a central spinning hub. However, the bladeless fan with air multiplier technology works very differently. However, calling the fans bladeless is perhaps a misleading term. The bladeless fan comes with blades but they are hidden in the pedestal.
Bladeless fans come with their advantages over the standard fans. First, because there are no visible blades, they are safer. Second, the blades of a standard fan chop the air thus causing a phenomenon known as buffeting. However, buffeting is avoided by bladeless fans giving you an uninterrupted stream of smooth and cool stream of air. Lastly, they are easier to clean, and the unique design can blend easily in your home.
However, the downside of bladeless fans is that you will dig deeper into your pocket to get a feel of this new technology.